Excerpt from The New York Real Estate Journal
Charles Rutenberg Realty's Commercial Division Secures $8.494m in sales.
Charles Rutenberg Realty, Inc. has arranged the following sales totaling $8.494 million as it's commercial sales division headed by Richard Diller continues to expand. Congratulations to the following agents. We are proud to have you on the Rutenberg team. Thank you for your dedication!   
Agents Kevin Kalyan and Rochelle Grant arranged the sales of 2776 Long Beach Rd., in Oceanside. The mixed-use propery sold for $703,500.
Associate broker, Stacy Leone arranged the sale of 207 Lawrence Ave., Inwood for $1.525 million.
Agent Victor Mihailesce arranged the sales of three multifamily properties including 761 Seneca Ave., Ridgewood; 187-15 Baisley Ave., St. Albans and 41-12 52nd St., Woodside. All three properties were acquired by individual buyers with a total value of $4.265million.
Associate broker, Yuh-Chyi (Ann) Lee arranged the sale of 350 National Blvd., Long Beach for $2million.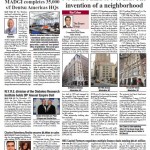 Joe Moshe is the Broker/Owner of Charles Rutenberg Realty Long Island, offering 100% commission to Agents. With over 1000 agents, it's one of the fastest growing, most progressive real estate brokerages on Long Island.

Latest posts by Joe Moshe (see all)