We are happy to announce the official Grand Opening of our new, state-of-the-art location!
And we have pictures and videos to share with you. Plus, you are welcome to stop in at anytime at 255 Executive Drive, Suite 208, Plainview. The ceremony took place on Thursday, July 11th with a purple ribbon cutting.! Local officials were there to celebrate with us such as:
Executive Assistant to Nassau County Executive Ed Mangano
Judith Jacobs, Nassau County Legislator
Oyster Bay Town Councilwoman Rebecca Alesia (Pictured Below)
Charles Rutenberg Staff and Agents
Plus, Joe and Pam Moshe's daughters and grandson were all present too
It was a wonderful event! Click here for a library of pictures!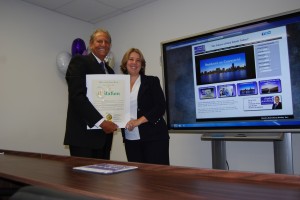 NOW AVAILABLE…New Training & Technology! A state-of-the-art Agent training facility featuring a 70-inch LCD-LED Dual Touch Interactive Board is up! We're happy to provide all our agents with an technologically advance training facility with many great training sessions to come.
STAY TUNED FOR MORE UPDATES on what we have in store for our agents!
[facebook] [retweet]

Joe Moshe is the Broker/Owner of Charles Rutenberg Realty Long Island, offering 100% commission to Agents. With over 1000 agents, it's one of the fastest growing, most progressive real estate brokerages on Long Island.

Latest posts by Joe Moshe (see all)